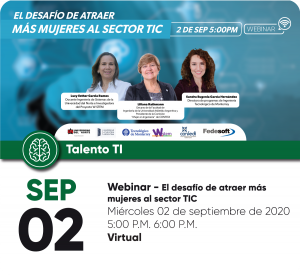 Webinar organised by Fedesoft and supported by W-STEM on attracting women to the technology sector will take place on Wednesday 2 September 2020 at 17:00 COT.
The event will be attended by three great women; Lucy Esther García Ramos, professor of Systems Engineering at the Universidad del Norte and researcher of the W-STEM project; Liliana Rathmann, dean of the Faculty of Engineering at the Universidad Atlántida Argentina and President of the "Women in Engineering" Commission at CONFEDI; and Sandra Eugenia García Hernández, director of engineering programmes at the Tecnológico de Monterrey.
Registration is totally free at https://attendee.gotowebinar.com/register/1464761002667065868.