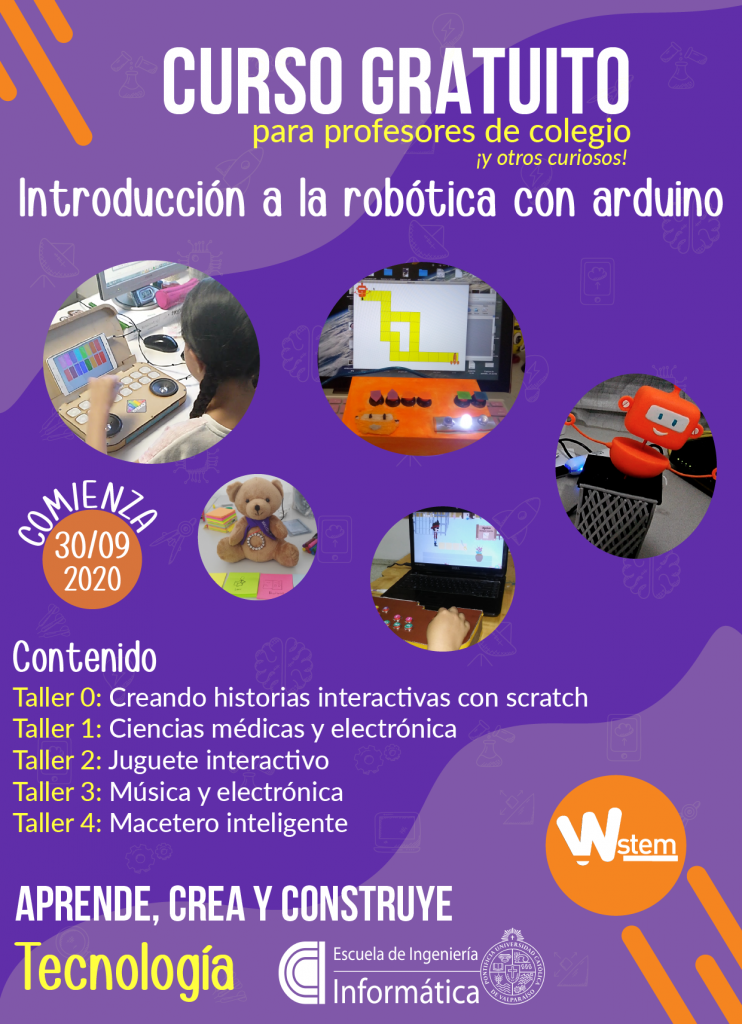 Online course oriented to schools professors who want to learn new ways to teach and develop an interest in their students, and especially female students, for engineering and STEM careers, aiming for a long term impact in attraction.
The course is completely free and consists of four practical activities, and will be led by Professor Sandra Cano Mazuera, PhD in Electronic Science, professor at the School of Computer Engineering of the Pontificia Universidad Católica de Valparaíso (Chile).
You can't miss out!
The sessions will be held in Spanish through the Zoom platform and will be distributed over 5 days of two hours, every Wednesday between 30 September and 28 October 2020, from 16:00 to 18:00, Chilean continental time (UTC/GMT -3).
Those who are interested can register on the web form https://forms.gle/ChjjtA2WisBwvUTZ6 and will be able to certify their participation upon completion. This activity has limited quotas.
Workshop 0: 30 September
Introduction class, creating interactive stories with Scratch
Workshop 1: 07 October
Practical application, medical sciences and electronics
Workshop 2: 14 October
Practical application, interactive toy
Workshop 3: 21 October
Practical application, music and electronics
Workshop 4: 28 October
Practical application, intelligent planter
From 16:00 to 18:00 continental Chilean time (UTC/GMT -3)
The following KIT will be used:
1 Arduino UNO, 1 Breadboard, 2 Red Led diode, 2 Green Led diode, 2 Blue Led diode, 3 220 Ohm resistors, 1 10K Ohm resistor, 1 Temperature sensor (LM35), 1 DHT11 Moisture Sensor Module (for arduino), 1 Hygrometer Sensor Module (soil moisture sensor, for arduino), 1 Potentiometer 10 K Ohm, 1 Buzzer or Buzzer, 2 Photoresistances, 5 Piezo Buzzer, Male – female jumper cables