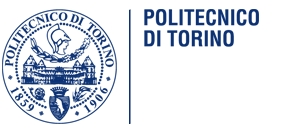 Established in 1859, POLITO is the oldest technical University in Italy. For more than 150 years it has been one of the most prestigious public institutions in Italy for education, research, technological transfer and services in all sectors of architecture and engineering. Ranking among the first twenty European technical universities, it is worldwide recognized as a high quality centre for education and research. At POLITO 900 Professors and Researchers carry out research and provide education to 34.000 students, of which 5.000 international from 100 different countries.
At the graduate level, POLITO offers 29 MSc and 17 PhD courses, many of which in English.
POLITO has been able to reconcile tradition and innovation by being deeply rooted locally and at the same time by establishing itself as an attractive University for students and talents coming to study and work from all over the world. Thanks to the quality of its research and to the tradition of liaising with companies, POLITO ensures students a swift work placement and attracts significant investments and collaborations with blue chip companies.
POLITO's experience in European projects is in research, technology transfer, as well as international cooperation and mobility in programmes such as FP6-7, LLP, Erasmus Mundus, TEMPUS, EuropeAid, Horizon 2020 and Erasmus+. Throughout the years POLITO has proved to be one of the top Italian universities for volume of collaborations and quality of the results achieved.
With its recent Strategic Plan-Horizon 2020, POLITO focuses its strategies on an even greater commitment in the social and economic field, in order to turn its campuses into neuralgic centres of an international network of academic, industrial and institutional partners, with the aim of sharing agreements and projects for an even more collaborative and interdisciplinary research.
Since 2002, Politecnico di Torino has developed project to enhance women presence in Engineering university and overcome the image of the engineer as a predominantly male figure.
In particular, the project "Woman: engineering career" has been carried from 2002 to 2013.
Today Polito is a partner of the Erasmus+ INGDIVS project on the same subject. It is a Strategic Partnership cooordinated by European Universities, within the regional area.
Researchers
Anita Tabacco
Maria Giulia Ballatore
Cinzia Ninetto
Paola Ghione
Federica Bizio
Claudia Apicella