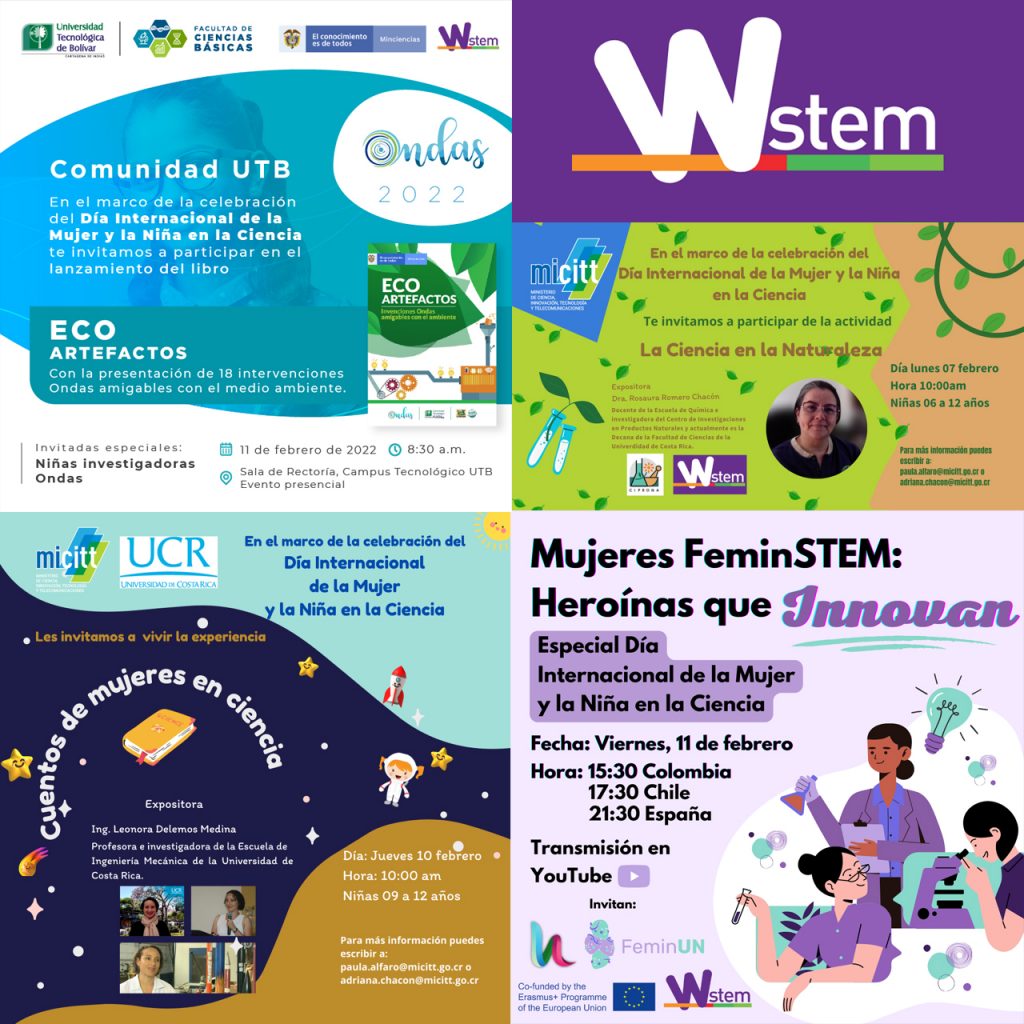 The European project W-STEM (Building the future of Latin America: engaging women into STEM) aims to improve strategies and mechanisms for attracting, accessing, retaining and orienting women in STEM higher education programmes in Latin America. W-STEM involves institutions from Chile, Colombia, Costa Rica, Ecuador, Mexico, Spain, Italy, Ireland, Finland and the United Kingdom, in co-operation with UNESCO and the Columbus Association.
Among the actions carried out, W-STEM supports once again the commemoration of the 'International Day of Women and Girls in Science' on 11 February with a programme of face-to-face and online activities that will take place in the different participating institutions. In particular, the different institutions involved are Universidad del Norte (Barranquilla, Colombia), Universidad de Costa Rica (San José, Costa Rica) and Universidad Tecnológica de Bolívar (Cartagena de Indias, Colombia).
First, on 7 and 10 February at 10:00 Costa Rican time, the Ministry of Science, Innovation, Technology and Telecommunications (MICITT) and the University of Costa Rica are holding two online activities for children aged 6 to 12, "Science in Nature" with Rosaura Romero Chacón (https://forms.gle/4NQrLpxPoDKsWRas5), and "Stories of Women in Science" with Leonora De Lemos Medina (https://forms.gle/Lrvthgq7AoYc9Cdy5).
On the other hand, the student groups W-STEM Uninorte, FeminUN and Innova of the Universidad del Norte are organising "FeminSTEM Women: Heroines who Innovate" on 11 February at 15:30 Colombian time. An online discussion on the contributions and role of women scientists in four historical periods, from the industrial revolution to the eleventh century (https://youtu.be/SaceOtGMR_U).
Finally, the Universidad Técnica de Bolívar is organising a face-to-face event on 11 February to present the 18 environmentally friendly inventions made by girl researchers from the Ondas programme, followed by a workshop on biosignals for girls.
For all the information on the different activities and links to the online broadcasts, check the following link: https://wstemproject.eu/11february2022/.