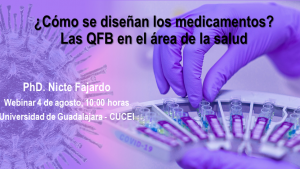 Do you know how a drug is designed to treat a disease? It's a challenge that allows you to put your creativity into practice in conjunction with knowledge of the human being, chemistry, physics and other sciences. You can also work in this area and participate in the different stages.
If you want to know how it works, join us on August 4 at 10:00 am in Mexico to meet PhD. Nicte Fajardo, Pharmacobiologist Chemist at the University of Gualadajara (Mexico). The event will be fully in Spanish.
The event will be broadcasted through our Youtube channel and Facebook Live 10:00 GMT-5 (Colombia, Ecuador, Mexico), 17:00 CEST (Italy, Spain, United Kingdom), 12:00 GTM-4 (Chile), 9:00 GMT-6 (Costa Rica), 18:00 EEST (Finland), 16:00 WEST (Ireland).