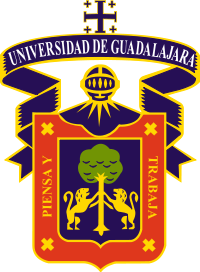 University of Guadalajara (UDG) is a public education institution, which was founded more than two hundred years ago.  Currently, U de G has more than 270 thousand students in high school and higher education programs.  U de G has 6 college campuses in the urban area of Jalisco, 9 college campuses in some small cities in Jalisco, 155 high school campuses and a system for virtual courses.  UDG is the second most important university in Mexico.
One of the campuses in the urban area is called CUCEI (Centro Universitario de Ciencias Exactas e Ingenierías).  It is one of the University centers with the largest student population (about 14 thousand students). About the 27% of CUCEI's students are female.  It has a stable academic and administrative platform, which promotes students' integral development, giving them the tools they need to become competitive professionals.  All the activities that are done in the campus encourage basic and applied scientific, technological, and pedagogical research, as well as science and culture.
CUCEI is organized in three units: Basic Sciences, Engineering, and Electronics and Computer Science.  The Basic Sciences Unit offers the following programs:  BSc. in Mathematics, Physics, Chemistry, Pharmacy and Materials Sciences.  The Engineering Unit features BSc. in Civil Engineering, Topographic Engineering, Industrial Engineering, Mechanical Engineering, Chemical Engineering and Food and Biotechnological Engineering.  In July 2018, the BSc. in Transport and Logistics Engineering will start. Finally, the Electronics and Computer Science Division offers the BSc. in Informatics, Computer Science, Engineering Electronics and Communications Engineering, Biomedical Engineering, Robotics Engineering and Photonics Engineering. The areas in which post graduate certified programs are offered by CUCEI are: Physics, Chemistry, Hydrometeorology, Materials, Chemical Engineering, Biotechnological Processes, Electronics Engineering, Forest Products, Electronics and Computer Sciences. The academic programs offered at CUCEI include curriculums that provide students with knowledge, professional competences, and values.
CUCEI's academic staff is composed of high level professors and researchers, some of them recognized nationally and internationally for their work.  They are encouraged to share their experiences and research results, and to write and publish books. Research is also promoted among students through invitations to participate along with academic personnel in research projects in areas of Robotics, Programming, Automation, Embedded Systems, Optical and Medical Instrumentation, Astronomy, and Materials, among others.
Internationalization is a priority for CUCEI. Therefore, we perform tasks to promote academic mobility among professors and students, and offer courses and conferences given by renowned people from other institutions that are recognized by their scientific and technological work.  In addition, our campus receives foreign students in our educative programs, fostering a multicultural environment, where scholars can exchange views, experiences and languages
One of the main reasons why not so many women enroll in STEM programs in Mexico is the education received at home: a very high percentage of Mexico's homes are still macho-dominated. Another important factor, even in the 21st century although less than before, is society's pressure to be a married woman with children when you are enough aged for that. In contrast, when not enough attention is given to young women (mainly teenagers), or not care about them, they seek fulfillment in the now prevailing open-sexuality trends without protection, with the consequence that 20% of girls aged 15 or less get pregnant and halt their education, even the basic one. Therefore, one important objective of the Mexican government regarding to the education of girls and boys should be to attack this terrible problem, which ultimately affects the enrollment of women in universities, not only in STEM programs.
To help to tackle this problem, the Mexican society must be informed that women are beginning to take a very active part in this new age, characterized by the knowledge and the digital information, which molds the way the society nowadays lives. To achieve that, nothing is better than letting women (and the interested men, which is the other part that should also be involved) convince the government, the society, but most importantly, younger women, that education is also a synonym of a fulfilled life. It is a matter of experience that women coming from STEM areas are more capable to transform the way the society ponders about women's strong spirit.
Researchers