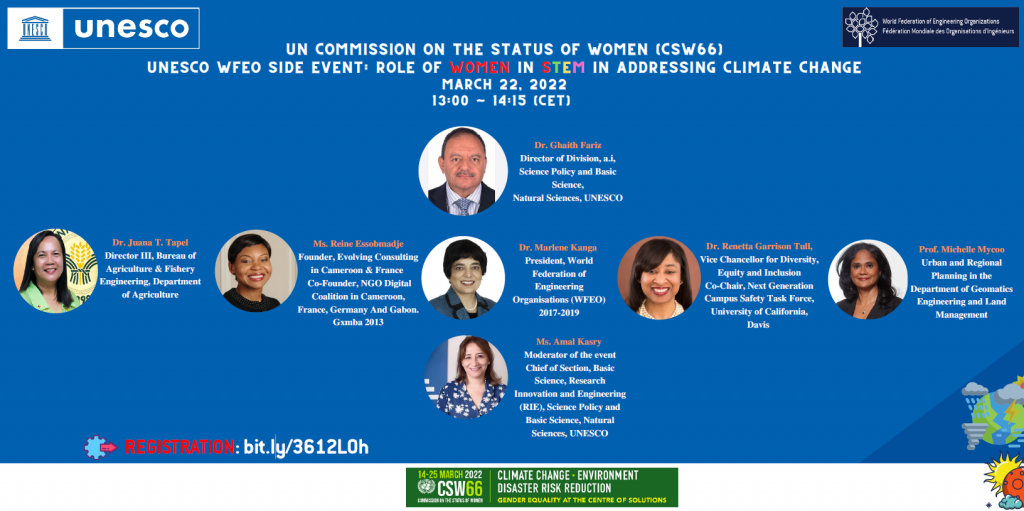 The side event is being hosted by the UNESCO Natural Sciences Sector and the World Federation of Engineering Organisations and will demonstrate the key role of women scientists and engineers in addressing climate change, disaster risk management, innovation and advancing the Agenda 2030 and the Sustainable Development Goals, including SDG 5, 9 and 13.
UNESCO and WFEO will address the issue of women and their role in addressing climate change, environmental risks and natural disasters. Empowering women in the STEM fields and ensuring their role in government, industry and academia, is increasingly important after two years of dealing with the pandemic. Women have been under-represented in addressing issues relating to climate change to date and this event will address this imbalance to some extent.
Date and Time: Tuesday 22 March from 7:00 to 8:15 AM EST / 1:00 to 2:15 PM CET via Zoom.
Opening Remarks
Ghaith Fariz, Director of Division a.i, Science Policy and Basic Science (PCB), Natural Sciences, UNESCO
Moderator
Amal Kasry, Chief of Section, Basic Science, Research Innovation and Engineering
Speakers
Marlene Kanga, Past President of the World Federation of Engineering Organisations (WFEO) (Australia)
Renetta Tull, Vice Chancellor for Diversity, Equity and Inclusion, Co-Chair, Next Generation Campus Safety Task Force, University of California (USA)
Juana Tapel, Chair of the Women in Engineering (WIE) group at the Philippines technological Council and an advocate for action on climate change (Philippines)
Reine Essobmadje, Founder of Evolving Consulting in Cameroon and France and the Co-founder of the NGO Digital Coalition in Cameroon, France and Gabon (Cameroon)
Michelle Mycoo, Professor of Urban and Regional Planning, The University of the West Indies (Trinidad and Tobago).
Check the official website for registration: http://www.wfeo.org/event/unesco-wfeo-un-women-csw66-side-event-role-of-women-in-stem-in-addressing-climate-change/.