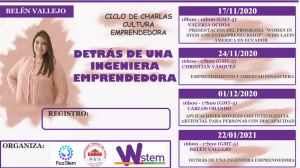 The Universidad Técnica del Norte (UTN), through the International Project "Building the future of Latin America: engaging women into STEM", organized a series of conferences called "Entrepreneurial Culture". The fourth Talk was about "Behind an entrepreneurial engineer" as part of the Guidance and Mentoring activities of the project. This activity was intended for students and graduates of the different careers of the University.
The Talk provided information on the exhibitor's experiences throughout her study period, work carried out, and mainly the motivation to generate her own entrepreneurship. The conference began with statistical data of women involved in the technical area, representing only 30 to 35%. Interestingly, out of ten engineering students, two are women, which is why he recommends redeeming that gender gap through a change in ideology, beginning to be equitable both in the social and in the workplace. Regarding the area of ​​entrepreneurship, she suggests having an entrepreneurial attitude, putting aside the fear of putting business ideas into practice. The beginning into account that many positive and negative factors strengthen the person. The qualities that must be had are passion, motivation to materialize ideas, be persistence, tenacious and have the ability to face challenges and obstacles until reaching the goal. It is necessary to be creative and innovate when undertaking, have the ability to plan and analyze activities. Knowing how to communicate and socialize with others helps to transmit and expand the possibilities of having positive results.
The online event was completely free and took place on January 26, 2021, from 4:00 p.m. to 5:00 p.m. (GTM-5) through the Teams platform. As a result of the event, students from all the Faculties (5) of the UTN.