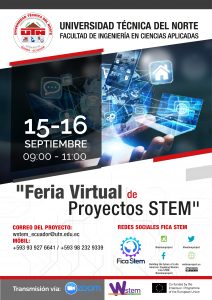 The Universidad Técnica del Norte, through the International Project, "Building the future of Latin America: engaging women into STEM", organized an event "Virtual Fair of STEM Projects" as part of the attraction campaigns. This activity was intended for high school students of the Educational Units of the province.
The Virtual Fair aimed to socialize the academic offer and promote STEM vocations. Through the presentation of STEM projects of all the careers of the Faculty of Engineering in Applied Sciences (FICA): Mechatronics, Telecommunications, Software, Electricity, Automotive, Industrial, Textile.
The exhibitions were simultaneous, a room was created for each career, in total 7. Each session lasted approximately 25 minutes. Where the young women told why they decided to study a STEM career, what the career they chose is about, and their experience when doing the final degree project. These rooms allowed greater interaction and provided an opportunity for young people to ask directly and thus resolve all their concerns about each career.
Female students made the presentations of the last levels and female professionals of STEM careers, thus visualizing the talent and presence of women within the STEM areas.
Virtual environments were used, offering greater personalization where the different areas related to each of the careers are represented and, in this way, a greater impact and interest in the academic offer was generated.
There were two-room changes so that each student has the opportunity to learn about two STEM careers of their interest, achieving a greater dynamism of the event and in turn optimizing time.
The online event was completely free and took place on September 15th and 16th, 2020, from 9:00 a.m. to 11:00 a.m. (GTM-5) using the Zoom platform. As a result of the event, a total of 352 students registered for the Virtual Fair were obtained, with the participation of eleven (11) Educational Units of the province.