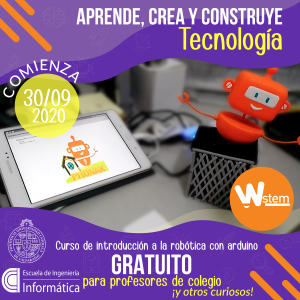 The Pontificia Universidad Católica de Valparaíso and the international project W-STEM organize the online training course "Introduction to robotics with Arduino".
It is an online course aimed at school teachers who want to learn new ways of teaching and develop the interest of their students, and especially women, in engineering and STEM careers, to achieve a long-term impact.
The course is completely free and consists of four practical activities, and will be led by Professor Sandra Cano Mazuera, PhD in Electronics Science, professor at the School of Computer Engineering of the Pontificia Universidad Católica de Valparaíso (Chile).
The sessions will be held in Spanish through the Zoom platform and will be distributed over 5 days of two hours, every Wednesday between September 30 and October 28, 2020, from 16:00 to 18:00 hrs, Chilean continental time (UTC/GMT -3).
Those who are interested can register on the webform https://forms.gle/ChjjtA2WisBwvUTZ6 and may opt to certify their participation after the completion of the form. This activity has limited quotas.
More details https://wstemproject.eu/course-introduction-to-robotics-with-arduino/.