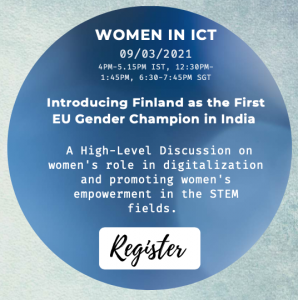 Finnish universities and companies remain to be in the need of students and highly skilled experts. At the same time, Finland can offer high-value education and job opportunities for international students and employees.
Future is Made in Finland is a long-term program in which they are going to connect people with Finnish Universities, companies, startup-organizations and individual experts to ensure more dynamic and efficient networking.
Next Tuesday, March 9, 2021, Future is Made in Finland has organized a high-level discussion on women's role in digitalization and promoting women's empowerment in the STEM fields.
Registration: https://docs.google.com/forms/d/e/1FAIpQLSfQpSyDki78aXZ-cHdrN3Zzkw7T7Dp34jOqVI95zq0QDf0NOg/viewform