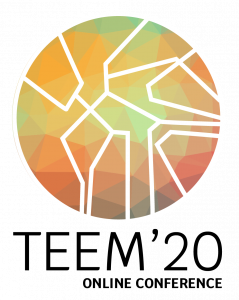 The 8th edition of the International Conference of Technological Ecosystems for Enhancing Multiculturality (TEEM 2020)  will be held online from October 21 to 23, 2020. It is organised by the GRIAL Research Group of the University of Salamanca. This event brings together researchers and postgraduate students interested in combining different aspects of the technology applied to knowledge society development, with a special attention to educational and learning issues.
In particular, there will be a session focused on Bridging the diversity gap in STEM covering the following topics:
Fostering diversity in STEM fields
Attracting women to STEM studies
Diversity and inclusion at university
Teaching innovation related to gender and diversity
Best practices about diversity in STEM
Dissemination initiatives to promote diversity in STEM
Gender studies in STEM
Actions against prejudices and stereotypes
Promoting women in scientific careers
Gender perspective in education
Ethics and gender in STEM
Gender in research
Co-education practices for STEM
The conference will be held in virtual formate, with videos of the presentations and synchronous discussion sessions and keynote plenary activities, round tables and gamified and interactive sessions.
All accepted papers will be published in the ACM Digital Library as a volume in its International Conference Proceedings Series with ISBN and indexed in SCOPUS.
Important dates:
Paper submission: 15 September 2020
Notification of acceptance: 30 September 2020
Camera-ready version: 10 October  2020
More information and call for papers: https://2020.teemconference.eu/call-for-papers/