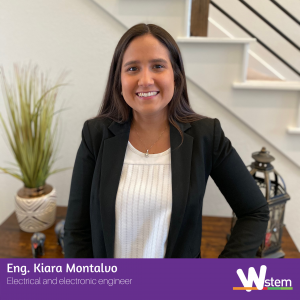 Electrical and electronic engineer from the Universidad del Norte, she was awarded the Recognition of Scientific Merit for having obtained a Cum Laude qualification in her Degree Thesis at Uninorte and has also obtained several relevant certifications in her field of work, including: Cisco Certified Network Associate (CCNA) and Cisco Certified Network Professional (CCNP). She is currently working as a Consulting Systems Engineer for Cisco Meraki, a line of cloud-managed network and information technology products.
She began her career as a Project Engineer at Omnicon, a year later she joined Cisco Systems as a part of the Cisco Sales Associate Program training, which allowed her to move up to a position as a Data Center solutions specialist. She was then hired by another team to work with the Sales and After Sales Engineers of two of the largest Service Providers globally – BT and Orange. She has been working as a Consulting Systems Engineer for Cisco Meraki for the past two months. She is currently working on the design and deployment of "Outdoor Wireless" for several schools in the state of Texas, where she resides, in order to provide students, who do not have the resources, with free internet connection so that they can continue to fulfill their academic activities during preventive social isolation.
Montalvo says that while she is proud of what she has accomplished, she still has goals to achieve and that she owes her success to her effort, discipline, tenacity and dedication.
Thank you Kiara for changing the statistics!